Y.E.L.L. Presents:
White-Identified Young Women Advocating For Change
Theme: Moving From Listening To Action: #Respect #Responsibility #Racial Justice
Goal
To educate White-identified female and non-binary participants about our history of racial injustice and to inspire them to use their position and privilege to take action against racism.
Objectives
Critically examine the concept of race and its construction.
Experience how implicit bias lives in our bodies and develop an awareness of privilege.
Build community with white-identified peer activists and learn to advocate for change.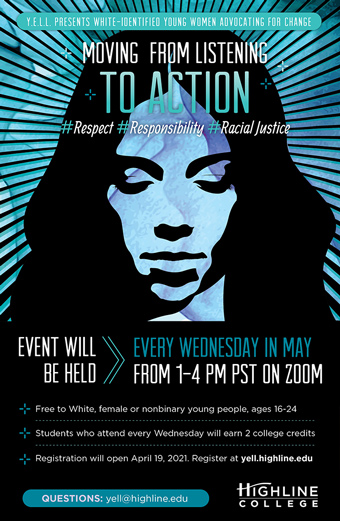 View an enlarge version of this year's poster
We acknowledge that students may be overwhelmed with virtual school and we're asking them to attend the summit during the school day.
As an incentive for attending the summit series, students will have the opportunity to earn two college credits (College 100: College Success Seminar). Students must attend all five days to be eligible to receive college credit. More details will be sent out after registration opens. We are hopeful that this opportunity will encourage the young women to attend all days of the summit and we are especially thankful for the schools supporting this event and the students attending.